Perhaps the most wonderful aspect about cross-country driving through the United States is the enormous diversity involved. There is the crisp, refreshing air of the northern regions, steaming savannahs to the south, the coast lines of two great oceans – three if you count Alaska's Arctic Sea – the broad expanse of the Great Plains, valleys, deserts, canyons, and enormous lakes. Even the mountain ranges are diverse. The big question is what's your flavor?
Rocking it Out
Trying out Wrangler capabilities in the rocky mountains of UAE East Coast… It is really a beast !!! For rock crawling enthusiasts, there is no doubt that west is where they want to go. The Rocky Mountains contain some of the best rock crawling experiences on the face of the earth. What makes the region even more enticing is that the Rocky Mountain States are generally off-road friendly. There are two main states rock crawlers target in the west for their off-road adventure; Colorado and Utah. The choices for off-road driving in Colorado are practically unlimited. There are alpine trails, hot springs, canyon routes and densely forested areas.
A popular choice is the Arapaho and Roosevelt National Park. There are dozens of off-road trails to choose from, starting at elevations as low as six thousand feet, and reaching wonderful, breath-taking heights of ten thousand feet or more. The off-road trails are well-marked, with signs stating their level of difficulty, from easy to very challenging. Many of these roads are closed in the winter however, so a trip to the Arapaho and Roosevelt National Park should be planned for spring, summer or fall. Even in the summer, northern areas with high elevations cool off quite a bit at night. If you are planning a trip into the mountains, bring plenty of warm clothing, including sweaters, jeans and a jacket. For overnight camping, you'll need a warm sleeping bag, stout hiking boots, a tent, flashlight and a portable cook stove. Since it is a forest area, do not start fires in anything except a designated fire pit.
Keep your Jeep smart. Rugged trails mean you need a good suspension system and larger, wider tires. If you don't have a winch, keep your vehicle ready with a tow strap, hi-lift jack and a portable shovel for digging your way out of those awkward spots. A roll cage for your Jeep is advised.This is the first time ive captured the Sun and the Moon in one frame although they are barely visible.
Colorado borders Utah, which means you might wish to take advantage of both a warmer climate and some spectacular views of the amazing caverns and red sandstone arches of the neighboring state. Top off the trip with a visit to Moab. Even if you don't own a Jeep, Moab's many tour services include offering Jeep rentals and tours within the Arches National Park and to prehistoric Indian ruins.
Deep South
Florida is rarely thought of as the great off-road experience. It seems to be more about fantastic beaches, high end hotels and whopping game fish. However, Florida does have a lot of dirt roads. Their biggest problem with these roads is erosion and flooding. Because the Florida eco-system is so tender, Florida discourages mud-bogging, off-road racing and driving off designated roads. However, there are two things to consider. Reaching a good access area for catching that bragging rights game fish, often requires some very rugged off-road driving through swamp, sand and mud trails. The other is that there is a National Park that features off-road trails.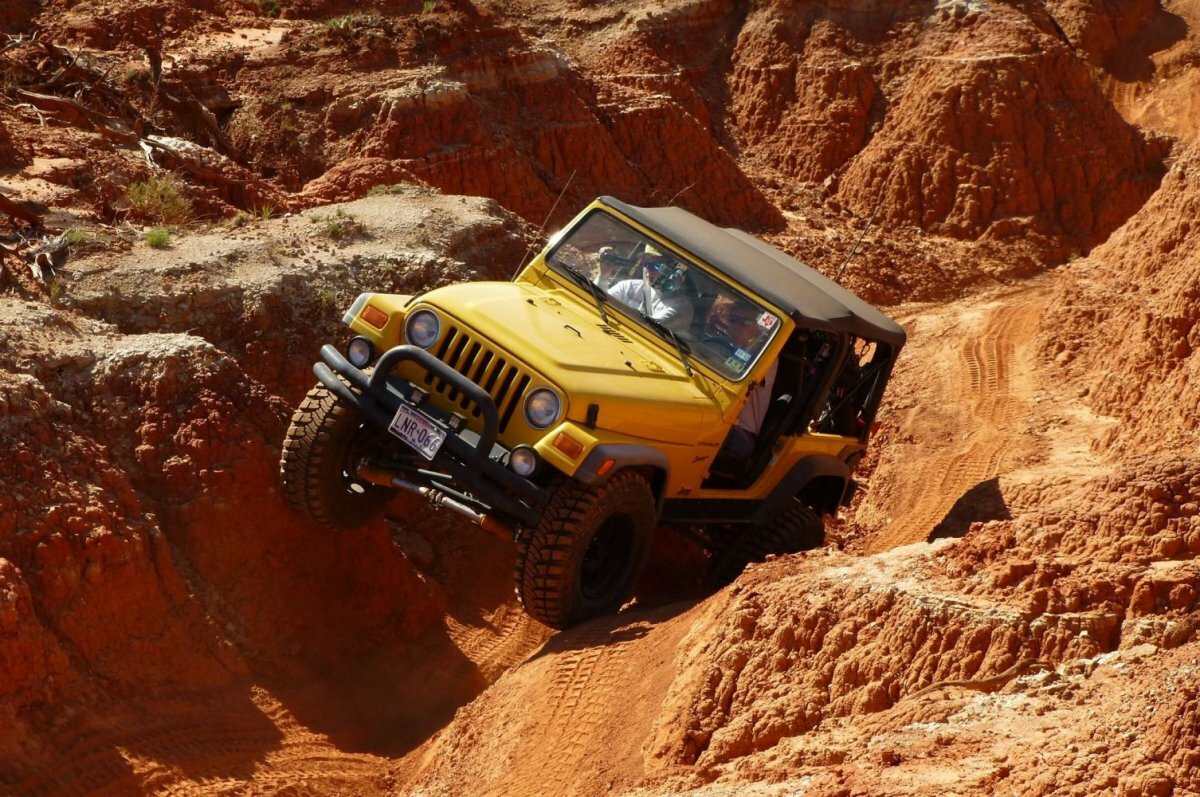 Located in the swamps of Southern Florida, the Big Cypress National Preserve was once an area that could only be reached by air-boats. However, in recent years, a somewhat primitive trail system allows you to access many parts of this tropical wilderness. The camping sites are all primitive, and there are no restaurants, lodges or other services once you enter the preserve, so you must take all your preparations with you. Summers are hot and humid, with average temperatures exceeding ninety degrees. Winters are generally mild, but can drop as low as thirty-two degrees F. Situated on 729,000 acres, the Big Cypress contains a vast mixture of temperate and tropical plant communities, as well as diverse wildlife, including the elusive Florida Panther. It is also home to alligators, so precautions should be taken around water, especially for those who own small dogs.
Activities include canoeing, kayaking, hiking, nature viewing and hunting. Typical game species include the white-tailed deer, turkey and wild hogs. Permits for archery, muzzle loaders and general gun use can be obtained. Alligators are not permitted to be hunted on the Big Cypress Preserve. Guide services for kayaking, hiking and boardwalk strolls can be obtained through the park rangers, who also offer informational programs on the many aspects of the wildlife environment. The services are given free of charge. For all activities, it is advised you wear a sun hat, sun screen, and carry along bottled water.
Something Different
Although it generally seems to take a back seat for most tourist destinations, northern Idaho is a breath of fresh air. Its numerous off-road trails can take you just about anywhere you'd wish to go for relaxation or adventure. Here the Russian River runs, and lakes abound for camping, fishing, swimming, kayaking or canoeing, or even try your hand at gold panning. Shoshone Falls in Twin Falls, Idaho is considered to be the Niagara Falls of the West. With water falling a staggering 212ft to the Snake River below, it is easy to see why.
From Idaho Falls, you can bask in the Conde Hot Springs, or bounce your way over to the public hot springs in Boise. Idaho has a flurry of old ghost towns and abandoned mining camps, so be sure to take along your metal detector. It's also a great place for the rock hound. Take the Lava Road Trail out of Idaho City if driving on lava beds appeals to you, but make sure your vehicle has high clearance. If you're really feeling adventurous, drive to the Seventeen Mile Caves. A word of caution; Idaho has snakes, so if you want to do a little caving, be sure to wear leather boots and keep your eyes open. If you like rugged, then try the Lost Trail of Owyhee Mountains in Southern Idaho. This gnarly, unbelievably rocky trail, which needs a full stretch of the imagination to be called a trail at all, will challenge even the most serious off road driver skills. You'll not only need high clearance, but at least one spare tire and to be completely prepared, bring your tire repair kit along, as well.
Idaho has something for everyone; desert, mountains, forests, valleys. While southern Idaho is hot and dry, northern Idaho has very pleasant summer temperatures, averaging around eighty degrees, with generally balmy nights. It can get chilly in the evenings if you're in the mountains or near a lake, so bring a sweater or jacket.
Wherever you'd like to go for your next off-road adventure, check with your national park service. Most of the national parks and wildlife refuge areas have designated off-road trails and clearly marked Jeep trails. The rules are simple. Stay on the trails, especially in areas where the terrain is delicate. Leave no garbage behind. Respect the wildlife sanctuaries. Be courteous to other drivers, and watch for hikers or bicyclists. By following the rules, off-road driving can be a pleasant experience for everyone.